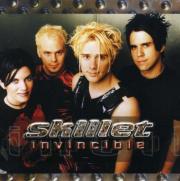 Skillet is back, and better than ever.
After guitarist Ken Steorts departed from the band soon after the Hey You, I Love Your Soul tour, former drummer Trey McClurkin also decided to jump out of the frying pan (although he is pictured on the Invincible album cover anyway), leaving the rest of the band members to sizzle with new ideas and creativity. Now, with new band members Korey Cooper (keyboards, vocals, and programming), Kevin Haaland (guitarist), and Lori Peters (drummer), Skillet has cooked up something new and delicious titled Invincible, their third album on the Forefront/Ardent Records label.
The new Skillet album is even more electronic, as the first track proves. "Best Kept Secret" opens the album with a technotronic sound new to Skillet but with the same driving guitar and hard-hitting Christian lyrics. The next track, "You Take My Rights Away," is even more synthesized than the first track, and has more of an '80s rock sound to it. The song talks about how God takes our rights away to do whatever we want and changes us to do what He wants. Track #3 is the title track, "Invincible," based on a message John Cooper says he received from watching the X-Files movie. The overall message of the song is that you can kill a man, but you can't kill what he stands for. In Skillet's case, that would be Jesus. With its low guitar riffs and synthesized hums, the song is as musically entertaining as it is lyrically. Meanwhile, the band tries its hand at writing ballads with "Rest," possibly the mellowest song on the album. Korey Cooper's keyboard is the focus instrument here, and the tune is reminiscent to "More Faithful" from the Hey You... project. "Come On to the Future" is track #5, with a sound true to its name. Although it loses out on most of the heavy rock found elsewhere on the album, "Come On to the Future" is still a "you-must-hear-this" tune. It serves as a reminder of our real future and the reward that God has in store for all Christians. "You're Powerful" follows up, slacking on the techno but not losing out on any rock sound whatsoever. This intense, guitar-slamming melody is all about God's power, and the beat grows more violent as the topic is dwelled into. Track #7 is titled "I Trust You" and is one of my personal favorites on the album. It has a perfect blend of tech and rock-- what some people would call "shock-rock" --and a wonderful lyrical message about placing absolute trust in God that is sure to draw the listener's attention. Unfortunately, the next song, "Each Other," fails miserably as a ballad and is the only song that should be skipped during a listening session. "The Fire Breathes" picks things back up as no doubt the hardest song on the entire CD. Don't miss the message contained in all of that sound though, because it has some awesome lyrics about the almighty consuming fire of God that works in all of us. "Say It Loud," track #10, is a totally techno song without any rock that sounds like it was produced by the members of Avalon, but that doesn't mean that it's a waste of space on the album. The words testify about not keeping Jesus a secret and proclaiming His name to everyone...really, really loudly. "Can't keep it all to myself ~ can't hold it in ~ can't shut it out ~ can't keep me silent" are lyrics that are proof of that. One final attempt to make atonement for "Each Other" is "You're the One," and this time Skillet succeeds. This track is more like a love song, but it's a love song to God, and that's what's important. Finally, "You're In My Brain" closes the album with the original Skillet sound all Panheads have grown to love. The only problem is that the song sounds like it should be on the previous Hey You, I Love Your Soul project, but it's a nice, heavy, good song anyway. Oh well, we'll forgive Skillet this once for using cheap rewrites. The band makes up for it anyway by adding a not-so-hidden track immediately following "You're In My Brain" entitled "Angels Fall Down." Though mostly instrumental, the few lyrics elaborate on the message presented in "You're Powerful." I have no idea why this song was chosen to be the hidden track; it is in my opinion the best mellow ballad on the album and more than deserving to take the place of "Each Other," but we'll forgive Skillet again since they at least put it on the album.
The question still remains: "When is Skillet going to release their long-time coming all worship album?" Well, we still have no idea, but until they do, Invincible should more than keep us entertained for a long time. It serves as a worthy follow-up to Hey You, I Love Your Soul, and opens up a new path for Skillet to follow as they seek to gain an identity in the Christian music industry. Buy this album, and don't miss out on being Invincible.