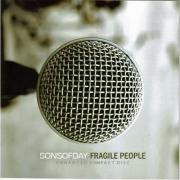 A quick glance at the liner notes to most Christian artists' debut albums usually reveals the customary roundup of church pastors, voice instructors and gear sponsors in the "thanks to" section. It is a rare band indeed, though, that can claim a debt of gratitude to the KGB for the recording of its freshman project. Such is the case, though, for Scottie, Bogdan, Roman and Vlad Bellos, whose grandfather, Joseph, first became interested in Christian matters after reading a Bible he'd confiscated from an elderly woman during a KGB literature raid in the former Soviet Union. It was Joseph's eventual conversion to Christianity that led his wife and children, and ultimately his grandchildren, to pursue the Christian faith as well.
Released fifteen years after immigrating from their native Ukraine to the United States, the Bellos brothers' first album arguably bears the imprint of their grandfather's religious fervor. The superbly-worded title track (We are different people/ Fragile and beautiful/ We lose our way sometimes/ We're all in need of a Savior) highlights mankind's intrinsic weakness and the corresponding necessity for divine assistance. "Left Without a Goodbye" (You're now in a wonderful place/ Safe in the arms of grace), on the other hand, addresses the subject of eternal security. The direct, no-holds-barred approach of "Why" (Why can't we lose this life/ Why can't we live for Christ) renders its exhortation to look beyond one's self all the more potent. And the straightforward, almost sparse, language on "Reconcile" (To cry out loud/ To sing about/ The wonder of it all/ The loving God you are) works perfectly to heighten its underlying sense of adoration and awe.
While the lion's share of the lyrics on Fragile tend to hover around the central subject of mankind and its relationship to God, the musical portion of the CD is an altogether more eclectic matter. The infectiously breezy opening cut, "Another Day," pulls from the laid-back acoustic-based folk-pop of artists like Jadon Lavik and Evan & Jaron. "Greatest Love," by comparison, calls to mind Matchbox Twenty's Top 30 adult alternative pop/rock hit, "Back to Good." Elsewhere, the group migrates a bit further left of center, taking on jazz-inflected pop ("Getaway"), classic soft-rock ("Oceans Deep") and the reggae-meets-music-hall of "Riches and Wine," an ingratiatingly catchy cut which sounds, for lack of a better comparison, like the men of Christafari covering the theme song to Welcome Back Kotter.
Semi-obscure '70s sitcom references aside, although the Bellos siblings exhibit a daunting instrumental mastery, their songwriting skills suffer noticeably by comparison. The language of "Getaway" and "Another Day" (I'm searching for direction/ I'm lost without You here) will probably strike many listeners as rather simplistic. Similarly, the refrain to "Greatest Love" (You hear me when I call/ You'll catch me when I fall) has been employed to the point of overuse. And the lyrics to tracks such as "Why" and "Riches and Wine" (You've got more to find/ Than the rhyme for a dime/ When you asked for mine) are, more than anything else, simply puzzling. In fairness, cuts like "Oceans Deep" and "Reconcile" (Oh how sweet to be near/ The morning sun flies high/ Your love for every kind) have a certain grand-soundingness about them. By and large, though, any lasting impact they might otherwise have is largely limited by their ungainly grammatical construction.
In their defense, the abovementioned lyrics don't seem nearly as awkward in the context of their respective songs as they do when reading from the liner notes. Likewise, the brothers' shimmering harmonies and intricate guitar interplay - both hallmarks of a quartet that spent its formative years under the same roof - more than make up for the record's word-related limitations. Listeners who hang their hats on stylistic continuity are likely to be offput by the foursome's persistent jumping between genres. But, while such flitting about undeniably weakens the album as a whole, its best moments - particularly towering, guitar-driven power pop anthems like "Why" and "This Place" - stand toe to toe with anything from Lifehouse, Sanctus Real and other successfully-charting artists of their ilk. Well short of perfect, Fragile People is nonetheless an exceedingly enjoyable effort that does a fine job of capturing the intrinsic talent and diversity of its creators.