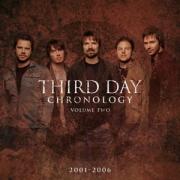 There are those both inside and outside the Third Day fan camp who, if they're being honest, would label the group's first five years together as their rock period and the years that have transpired since that time as... well... their not-quite-so-rocking period. While any such hard-and-fast view is true only up to a point, those who bought the Chronology Volume One album, which traced the Atlanta-based outfit's musical arc from the 1996 self-titled debut to the Offerings live worship project in 2000, found more than a little evidence to support such a claim. From the swaggering, Skynyrd-tinged strains of "Forever" to the lumbering, grunge-inflected "Consuming Fire" and majestic power balladry of "Love Song," one couldn't help but marvel at the band's seemingly effortless fluency with the rock and roll idiom.
Adding fuel to the abovementioned hypothesis, the second installment in the Chronology set, which spans the period between the Come Together (2001) record and the present, certainly offers plentiful testimony to the group's newfound romance with what could be considered kinder, gentler material. The lilting, almost playful, "Sing a Song" sounds far more suited for a cozy campfire than it does a standing-room-only arena. "Cry out to Jesus" and "Mountain of God," by that same token, bear a much closer resemblance to contemporary soft rock standards like "I Can Only Imagine" than they do to, say, "Sweet Home Alabama." And even the more upbeat cuts, such as "Rock Star" and "Tunnel," sport a polished production that serves to differentiate them from the band's grittier `90s fare.
Of course, all of the squabbling over what rocks and what doesn't would be a moot point if the post-millennial output was nothing more than a watered-down cousin to that which preceded it - which is hardly the case. Indeed, rather than outlining any sort of decline in the band's inherent initial energy, the CV2 collection merely points to a refashioning of that energy into a different, yet equally engaging, form. And therein arguably lies the secret to the group's continued success - even though the bulk of its newer songs come outfitted with a glossier exterior than their pre-Come Together counterparts, they simultaneously feature a razor-sharp (some would say superior) pop sensibility which guarantees that they pack the same underlying wallop as anything from the band's early releases. To be sure, one would be hard-pressed to find a more infectious slice of music than the opening guitar riff from "Come on Back to Me," the buoyant melody line of "I Believe" or the near-giddy falsetto chants found on "Come Together."
Adding fuel to an already stirring fire, Volume Two complements its well-rounded overview of the group's last four studio albums with a liberal helping of rare and unreleased tracks. The newly-recorded live version of "Cry out to Jesus" carries a solemnity and poignancy that most groups strive for but only rarely achieve. The blistering in-concert rendition of "I Can Feel It," on the other hand, sends a loud-and-clear signal that the spirited Georgians are still in full possession of their gritty, hard-rocking roots. "Movin' on Up," from the Second Chance movie soundtrack, finds the fivesome moonlighting as a surprisingly convincing Gospel quintet. And the driving, melodic "Carry Me Home," like "Long Time Comin'" and "She Sings in Riddles" from Chronology Volume One, offers further proof that Powell & Co. save their finest compositions for their limited-edition EPs.
Of course, any best-of collection covering a band as successful and long-lived as Third Day is bound to leave off the odd fan favorite or two. Aside from obvious examples such as "You Are Mine" (one of the group's most beautiful and gripping compositions) and the chart-topping "It's Alright," though, Volume Two includes nearly all of the band's most popular latter-day material. Indeed, with eighteen tracks, eleven Top Ten singles and a 74-minute running time to its credit - not to mention a companion DVD filled with videos, plentiful live footage and an in-depth band documentary - the sophomore chapter in the Chronology series paints a thorough and convincing portrait of a still-vital artistic collective just now approaching the top of its game.