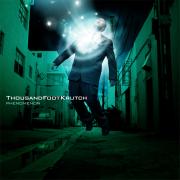 After a three year hiatus, Thousand Foot Krutch has returned with a softer-than-usual sounding album. Phenomenon amalgamates twelve very different songs onto a single album that has been gaining both Christian and secular recognition. With one track already being spun on stations across America and Canada, TFK's latest release has obvious staying power.
Listeners of both Christian and secular radio might already know the track "Rawk Fist." It has recently gone into rotation at numerous stations, and it is obvious why. "Rawk..." is full of heart-pounding drum beats and remarkable lyrics, but is rather ambiguous in meaning with the lyric "light it up now, light it up now".
"Step to Me" starts off with major effects over an amazing guitar riff, but within seconds it dives into the more traditional TFK sound and lyrical content. "I'm sick of livin' inside a lie / alright / I can't count the times I've tried / stand alone just to lift you high / you're my answer to the question why."
"New Design" is a song that shows the loneliness of a life without Christ. "Sometimes I feel so alone / it feels like I'm standing out here on my own / I've never felt so far from home." This spiritual message is cast with a slower tempo melody mixed with the rap sounds of Limp Bizkit.
From one side of Thousand Foot Krutch, Phenomenon jumps to "This is the Call," a ballad about different people experiencing struggles throughout life and calling out for help. Wait, a ballad from Thousand Foot Krutch? Yes, and who would have thought such a hard-rocking band could release such a meaningful and heart-felt ballad? This track is much more FM Static-ish, but that only shows how versatile these guys really are.
While the entire CD is a different sound for one of the top-selling hard-rock indie bands in Christian music, it is really no different than the music heard on MTV and numerous other stations. One can only wonder if they are changing their sound to have the option to go mainstream.
Even the cover art and artwork throughout represent a superb CD, and after three years, should we expect any less? This power trio is a band that seems to be getting better with time, and the sophomore slump cliché hasn't reared its ugly head with this release. Then again, they are now under the watchful eye of one of the predominant labels in Christian music today: Tooth & Nail. Many of us are already wondering how they will top this album; hopefully we won't have to wait three more years to find out.