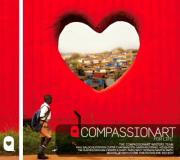 Music lovers and critics alike have often contended that the most praiseworthy trait any artist can possess is a willingness to try something new. Perhaps this is true because such intrepidity also carries along with it the risk of alienating the performer in question from the better portion of their existing fan base. The axiom certainly applies to the members of KISS, who traded in their characteristic hard rock inclinations for pseudo-progressive rock on 1981's Music from the Elder and post-grunge for 1997's Carnival of Souls, and were rewarded with the only two non-RIAA certified studio albums of their 35-year career. Bob Dylan's decision to strap on an electric guitar and play with a blues band for the first time at the 1965 Newport Folk Festival left many in attendance – most of whom were used to seeing him perform solo with only an acoustic guitar and harmonica – likewise less than elated. And it's probably safe to say that Garth Brooks would just as soon forget that his alter ego Chris Gaines ever existed. 
Fortunately for Martin Smith, his latest musical sidestep was born not out of any longing for artistic reinvention, but rather from a simple desire to find the most effective platform to battle the overwhelming worldwide poverty he witnessed while touring the world with British rockers, Delirious?. An offshoot of the CompassionArt charity he started with his wife, Anna, the tracks for the project of the same name were written by Smith and eleven other Christian artists from the United States, England and Australia during a retreat held in January of 2008 in Perthshire, Scotland. The proceeds generated by the release, which was recorded at Abbey Road Studios in London the following month, will go to the charitable organizations selected by the members of the CompassionArt team. 
As is the case with many multiple-artist outings, the results run the gamut from superb to so-so. "King of Wonders" finds Matt Redman, Tim Hughes and Joel Houston crafting a pleasant mixture of soft pop and modern worship. The Leeland Mooring/Andy Park collaboration, "Friend of the Poor," is a similarly agreeable – and, unfortunately, unexceptional – Top 40-friendly pop/rock offering. Paul Baloche's "Lead Me to the Rock" appropriates the arpeggio-laden, minor key-based melody line of "Carol of the Bells" as a starting point, but its sluggish tempo and overly repetitive construction render it a decidedly poor cousin to the far more mesmerizing Christmas classic. And "There is Always a Song," from Smith, Steven Curtis Chapman and the Watoto Children's Choir (from Uganda) will either delight or repel listeners, depending on how much they look forward to hearing the latest American Idol coronation anthem. 
At the other end of the spectrum, "Come to the Water," by Chris Tomlin, Smith and Kirk Franklin, lands squarely on the bull's-eye, thanks to its sprightly neo-psychedelic groove, plentiful fuzz-toned guitars and infectious "woo woo" backing vocals. Smith, CeCe Winans and the Lakewood Choir join forces for "Fill My Cup," a superbly languishing blues/gospel hybrid (think the Brooklyn Tabernacle Choir covering a slowed-down version of U2's "Desire") that proves music doesn't have to time in at 140 beats per minute to engage the listener. Darlene Zschech's heartfelt singing on "King of the Broken" stands shoulder to shoulder with the most poignant works from pioneering female Christian vocalists such as Susan Ashton and Twila Paris. And Amy Grant's voice on "Highly Favored" is like a visit from a far-away friend. Indeed, few artists, past or present, are able to deliver spiritually-based material with such austere and unaffected reverence. 
For all of its high points, the most thoroughly invigorating entries are those featuring CCM's favorite funk-filled son, tobyMac. One of Mac's greatest strengths has always been his ability to draw inspiration from the music of the past without ever allowing himself to become entrenched in it – a feat he pulls of twice here. If "Fill My Cup" was the BTC taking on U2, then "Shout Praise" – on which Mac and Israel Houghton raise jubilant shouts of "What you want? What you know? We got to make His kingdom grow!" – is the sound of them positively nailing Prince's "Baby, I'm a Star." "Let It Glow" makes an equally exhilarating nod to the last three decades, as Mac and Kirk Franklin channel everyone from Led Zeppelin and early Switchfoot to the '80s R&B outfit, Cameo, ("Word Up!," anyone?) in just under two and a half minutes.  
Riveting as they are, Mac's contributions alone aren't enough to elevate the album to must-have status, especially since the remaining cuts hardly add up to a collective slam dunk. Even so, followers of the artists represented will almost surely be pleased with the record as a whole. Likewise, the non-converts in the crowd would still do well to sift through the tracks with an open mind, since there's plenty here that merits a closer look. Of course, one could make the case that the songs themselves run a distant second to the motivation for creating them in the first place. Indeed, to Smith, who will disband Delirious? at the end of this year to focus on family and charity-related matters, the tracks on CompassionArt were unquestionably viewed means to an end, rather than the end itself. And it is this perspective, more than any other single factor, that ultimately renders his latest effort a success.