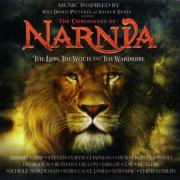 A companion (or alternate) piece to the original movie soundtrack, the Narnia Inspired By album features eleven newly-written songs from an assortment of popular Christian artists. For the most part, those involved stick to that which they know and do best. Jars of Clay's "Waiting for the World to Fall" is an engagingly wistful slice of harmony-rich modern pop recounting youthful wonder lost. The eminently spirited "New World" shows TobyMac's dexterity with both hip-hop and grunge to be little diminished since his glory days with dc Talk. The falsetto vocals on "Open Up Your Eyes" lend Jeremy Camp's characteristic guitar-driven pop/rock a mesmerizing, almost haunting quality. And even Kutless' by-the-numbers acoustic post-grunge hits the mark on "More than It Seems," thanks to the group's skill at forging instantly-memorable hooks and melody lines.
A handful of the performers opt to venture outside their comfort zones. "Stronger" shows UK Brit-poppers Delirious? admirably taking on psychedelic-tinged Beatlesque pop. Similarly, "I Will Believe" finds Nichole Nordeman trading her inspirational adult contemporary-leaning pop for a shimmering R&B/alt-pop hybrid that stands among Narnia's most transcendent entries. And modern worship artist David Crowder's splendidly tongue-in-cheek "Turkish Delight," with its wah wah-laden guitars, soaring string flourishes and dance-friendly rhythms, sounds like nothing so much as a lost nugget from the golden age of disco – a comparison only furthered by its gloriously abandoned cries of "The more I have / The more I want!"
As with so many "inspired by" releases, the better portion of the tracks on the Narnia disc could be argued to have, at best, a tenuous connection with the movie they represent. Taken on their own merit, though, they do their authors exceedingly proud, nearly to a song. Indeed, while only a few of Narnia's entries represent a marked musical departure for their composers, the majority of the material on the project equals or betters that written by its contributors for their own records. What the Narnia Inspired By effort admittedly lacks in inventiveness, it makes up for in accessibility and uniformly strong material. Surprisingly cohesive for a multi-artist collection, the Narnia record is one of the more solid movie-related albums to hit the shelves in some time.