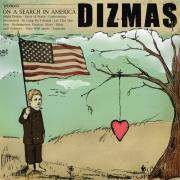 While almost all aspiring rock musicians have undoubtedly had to face their fair share of obstacles on their way to fame, Zach Zegan's biggest hurdle may well have been his own mom, who informed the singer that he couldn't start a band unless his kid brother, Josh, came along for the ride. With the younger Zegan duly in tow, Zach (a mere 14 years old at the time) enlisted drummer Clayton Hunt, bassist Nick Aranda and guitarist Daniel Shaff to round out the Dizmas quintet in the summer of 1998. Requisite practice sessions in the family garage led to the group's signing, appropriately enough, with the Sibling Records label.
Following the release of the Like You and Variety Show EPs for Sibling and a national tour in 2000, Shaff exited the group and was replaced by Keoni Chock. Over the next several years, the band recorded a third, independent EP (2002's Between) and returned to the touring circuit, sharing stages with everyone from P.O.D. and PAX217 to Coolio and the Dead Kennedys. A set of demo recordings with producer/engineer Brian Garcia (Kelly Clarkson, Galactic Cowboys, Our Lady Peace) landed the band a contract the EMI/Sparrow imprint Credential Recordings in the spring of 2004.
For the full-length debut, Zegan and his fellows (including new guitarist Jon Howard, who stepped in for Chock in August of 2004) waste no time coming up to speed. "Revolution" and the equally pulsating "Controversy" kick things off with a bristling blues/garage rock hybrid that sounds like the boys from Aerosmith dusting off numbers from Toys in the Attic alongside members of the Strokes or the Vines. "Time Well Spent" offers more of the same, with the Zegans tossing out bluesy, airtight harmonies that would make Messrs. Tyler and Perry proud. "Saturday" ties the syncopated, start/stop rhythms of King's X to the soaring pop smarts of Jimmy Eat World with topnotch results. And the chugging album-closer, "Night Divine," is a superb fusion of punk-pop and progressive rock.
Lyrically, things are a bit hit and miss. Statements such as "It's time to sing our music / You know the people lose it / It's clear, but they confuse it" ("Time Well Spent") aren't nearly as deep as they initially sound. Others, like "Noisemakers signal the party that silence has won" ("Party of Noise"), are rendered obliquely, a la early REM, but without Michael Stipe's underlying sense of poeticism. And the rather ordinary language of songs like "Let This One Stay" and "Revolution" ("Yeah, this life is fleeting and it contains us / This is overrated and we won't find patience") threatens to offset their otherwise stirring musical halves.
Elsewhere, though, the five-piece shows hints of a budding compositional skill. "So Long My Friends" ("Today's your day / To be one in a million / Or just like the millions") and "Redemption, Passion, Glory" ("This is redemption / That you would die for me / And this is salvation / That you would live in me") deliver their unmistakably evangelical themes in language that is both insightful and clever. "Night Divine" ("As time slips by / We're dying young / The room is dark / And I can't find a way") takes a straightforward, yet surprisingly evocative, look at the wayward believer's flight. And the band's honest appraisal of their own shortcomings in "Saturday" ("Angels sing / You are everything / But I'm always about the thrill") is both refreshing and convicting.
To their credit, the Dizmas lads possess an imposing aptitude which highlights their already fervent delivery. Indeed, it is hard to imagine that the same group that belts out rowdy rock numbers like "Revolution" and "Riots and Violence" would be able to carry off the splendidly sublime pop of "Redemption, Passion, Glory" with such authority. Just as impressively, the fivesome manages to pull from a broad array of influences without ever resorting to out and out imitation, making for an album that is, at once, reassuringly familiar and yet ultimately unique. Listeners looking for understatement and restraint will probably find the America record a bit much for their tastes. Those in search of a all-out, no-frills adrenaline rush set to music, on the other hand, are likely to find just what they're hankering for.