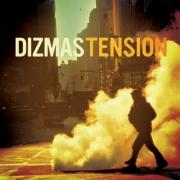 Reinvention can be a tricky thing. Just ask any of the seemingly countless artists who have recorded albums that went contrary to their established musical style only to find those albums consigned to the cutout bins and used CD stores before the supporting tour was half finished. While one record certainly does not a characteristic sound make, On a Search in America, the freshman undertaking from the lads of Dizmas, certainly offered its share of incentive to produce an identical-sounding follow-up, thanks to the mostly favorable reviews that were heaped upon it at the time of its arrival in mid-2005. Rather than taking the safe route and simply tossing out America Vol. 2, though, frontman Zach Zegan and his cohorts have returned from the proverbial drawing board with a release that departs almost entirely from the barreling, garage-friendly rock 'n roll that propelled its forerunner.
"Shake It Off" augments America's hard rock inclinations with touches of emo, power pop and the slightest hint of '60s psychedelia, the result of which easily outstrips anything from the last effort, and indeed, most rock-oriented singles in current rotation. "Nothing At All," on the other hand, with its lilting melody, clean guitar tones and sweet-as-sugar harmonies, could arguably masquerade as a lost track from Keane's Britpop masterpiece, Hopes and Fears. The sublimely moody "October" shadows the melancholy-permeated slowcore of groups like American Music Club and Red House Painters. And, as implausible as might seem to those who heard the last record, "If You Love Someone" and the equally remarkable "Sun" are the sort of pop ballads one could imagine hearing on the local adult contemporary radio station.
While the broadening of the quintet's musical palette is hardly a trivial matter, the more impressive (and, indeed, much rarer) feat is the manner in which the group has moved beyond the trite thematic elements and often amateurish wording that pervaded so much of the debut. "This Is a Warning" ("All of us are falling / We don't get it / And Don't care if we do") exhibits an extraordinary insight into the mechanics of hard-heartedness. "Nothing At All" ("This is the art of listening / Silence is the cure") is a likewise masterfully-worded cautionary against rushing in to judge non-believers. The highly parallel phrasing of "See Daylight" ("Don't stop till you get it right / Don't stop till you see daylight") perfectly amplifies its underlying sense of urgency. And cuts like "Play It Safe" ("Our nature plays with fire / Burning bridges that made us stronger") deliver their challenging points through the consummate use of irony.
Existing fans keen on America's full-throttle musical approach and no-holds-barred lyrics may write the new project off as too temperate for their tastes. Those willing to listen impartially, though, will find that the words on Tension are still laced with the same fundamental conviction that permeated the previous album. This time out, though, they're run through the filter of life's lessons learned – a tactic that renders their underlying truths that much more relevent. Similarly, while the inaugural effort was certainly a musical thrill ride with no shortage of fine songs, Tension is buoyed by a stronger, and much more memorable, set of melodies, which stations it several rungs above its respectable predecessor. Perhaps most importantly, its slower material affords a magnificently clear view of the heretofore untapped (and, truth be told, somewhat surprising) nuance and range of Zegan's formidable singing voice.
Of course, with such a drastic change between the former and current undertakings, one can only shudder at the prospect of the Dizmas fivesome reemerging next time around as, say, a hats-and-boots-clad country & western outfit or thin-cigarette-smoking art-rock combo. Those arguably heinous prospects notwithstanding, faithful followers and newcomers alike can breathe easy for the foreseeable near future as they dim the living room lights, pull up a nice patch of carpet and bask in the warm, inviting glow of one of the most entertaining and thought-provoking pop/rock releases of the past two years.