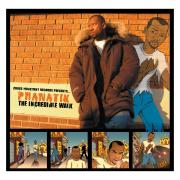 Cross Movement has seen better days. The crew that once captured the interest of mainstream rags like The Source and Time and seemed poised to burst through the atmosphere of the Christian industry has been laid relatively low lately. Their most recent LP was released on a label of their own making that hasn't made many waves outside of the CCM harbour. And even within the Christian industry, Cross Movement Records is by no means a heavy hitter in the vein of Gotee, the current hip-hop powerhouse, or the former Uprok Records.
A two-year gap since the release of 2004's High Definition has seen three of the group's four current emcees go into the lab alone, crafting solo albums that dropped in 2005. While this translates into more product for fans to chew on, the question of whether the individual efforts of The Ambassador, T.R.U.-L.I.F.E. and Phanatik can match the quality of the group's previous offerings is legitimate. And if Phanatik's The Incredible Walk is any indicator, the answer is, unfortunately, "no."
Although "Shot Clock (Brand New Day)," the album's fifth track, is a legitimate banger with lots of potential, much of the rest of the disc isn't easily digestible. The beats, usually of excellent quality on the group projects, are somewhat lackluster at times. Stronger emcees might make more of them, but Phanatik's delivery hits at around seven on a scale of one to ten and usually isn't up to the task.
The lyrics are strong in spots but also suffer from themes that are frequently tackled by others. In other words, it's great to hear a song about deflecting glory from self to God ("Me?"), or one about perseverance ("Press On") or repentance ("Come Home"), but it's not like we've never heard them before in different places.
Other cuts that feature decent raps are hindered by cheesy premises. "Psych Check," for example, is essentially an excuse for 'natik to flaunt his lyrical skills, but is framed as an academic exercise for the audience (i.e. "See if you can pick out how well I use alliteration in this verse"). "The AmazinGrace" suffers from the same weakness, existing as a fairly good song about evangelism but presented as a takeoff on the reality show The Amazing Race. The aim here is to travel the world in an attempt to win a million souls (rather than dollars).
As might be expected from a Cross Movement-backed record, The Incredible Walk is a ministry tool rather than rap for rap's sake, but it likely isn't strong enough to resonate with most hardcore hip-hop fans. Songs like "Grieved Again" and "In Here" may be exceptions for some listeners, but the rule is applicable to the majority of the remaining tracks.
It's fair to say that expectations on Phanatik are exceedingly high considering the body of work Cross Movement has shown in past projects together. It might be suggested that The Incredible Walk is judged in this light and that our appraisal is unnecessarily harsh as a result.
But it's not. Trust us on this one. Save your money for October 10 of this year, when the CR will release its final group effort. Then mourn with us over the demise of one of holy hip-hop's greatest acts, and over a future that looks bleaker than the past.